Town Councillors 2021/2022
As Llantwit Major Town has grown, so has the Council. The Town is split into 4 wards, North, West, South East and Boverton with a total of 14 Town Councillors who take an active part in the running of the Community.
Listed below is Councillors Register of Interest for the year:
2016/2017    2017/2018    2018/19  
2019/2020    2020-2021
Contact Councillors here. Click on the name of the councillor to find out their contact details and to email them directly.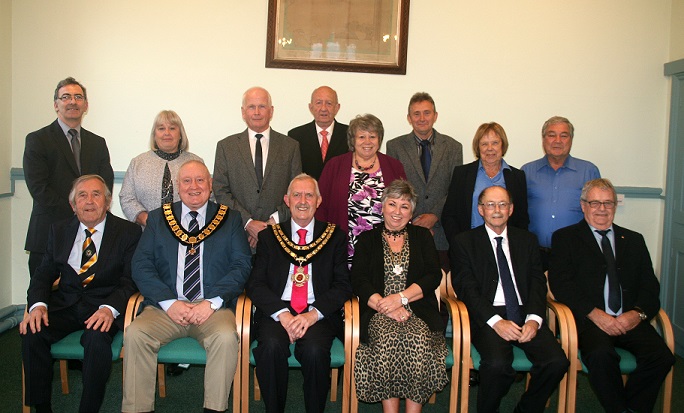 Councillors 2018-2019 
Top Row (Left to Right): Councillor E Williams, Councillor Mrs S Hanks, Councillor G Wilkie, Councillor D Foster, Councillor Mrs J Norman, Councillor D Powell (Town Mayor), Councillor Mrs G Hughes, Councillor G Morgan
Bottom Row (Left to Right): Councillor G John, Councillor G Thomas (Deputy Town Mayor), Councillor R Gant , Mrs Lynne Gant, Councillor Dr D Ellis, Councillor J Evans
Llantwit Major Town Council are proud to be a 'Refill Town' and we would like to thank all businesses who have supported this initiative. We would like to recognise World Refill Day - 16th June 2021
read more
Congratulations to Councillor David Powell who was elected as Town Mayor for Llantwit Major at the Annual meeting held on 27th May 2021. Councillor Powell stated "I will do my best to represent the Town and its residents. It is a privilege and honour to be elected as...
read more
Town Hall,
Llantwit Major,
Vale of Glamorgan,
CF61 1SD
Tel: 01446 793707